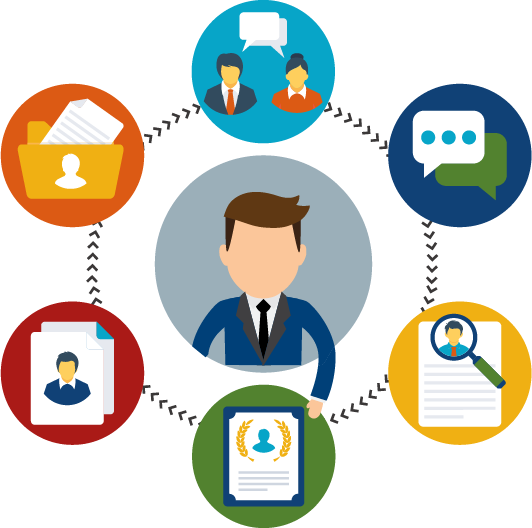 FIND THE RIGHT EMPLOYEES FOR YOUR BUSINESS
---
We assist your company as your own partner with complete 360 degrees of the Recruitment Process transfers or part of its recruitment processes to an external service provider. Our team of expert give careful attention to recruiting and selection process You can rely on our professional recruiters to find the perfect employees for you to either increase staff strength for new projects, or to replenish your employee numbers. you can be rest assured that you will get the most suitable employees who are ready to work hard and stay loyal to you.
What We Do
---
Before we fire up looking for candidates, we foremost study your requirements in detail, embark on comprehensive study on the industry, and craft awareness around your company to exert a pull on the best talent. We are able to match the quality of our candidates which we recognize from end to end our tried-and-tested processes. We will modify our endowment search to your precise requirements so that we can shortlist the individuals or teams that are most skilled of handling the exceptional challenges that they will face at the organisation.
Our acquaintance in permanent staffing services and the network of recruiting experts use client specific and consultative strategies to pick out just the right fit for your company's culture and business needs. We have a streamlined sourcing and delivery process which minimises all costs that are usually incurred when you recruit, on-board, and train new employees.
Understand your requirements
The first step in our course of action is indulgent of the client – you. We will spend time understanding your business, long-term and short-term objectives, company customs, and background. If needed, we will also visit your place of work to get a scrupulous understanding of the roles and responsibilities of the ideal entrant that you're looking for.
Customised recruitment plan
Once we draw together all the details, we will develop a custom-made recruiting plan just for you. We have a large network of job seekers and brilliant candidates.. We also use our strategic alliances, personal networks, and contacts at civic and professional organisations to widen our search.
Verification of candidates
Once we categorize candidates, we will start with bespoke interviews to start the Verification process. The top candidates will have the hard and soft skills that are indispensable for the profile. We also carry out a background check, and verification of work history and professional references. Out of this pool, we select the most appropriate candidates and forward you their profiles. We work closely with you to help you select the best candidate and finalise the job offer.
Finalising the job offer and follow-up
We will also assist you with the absolute job offer, managing negotiations, and securing the signed offer letter from the candidate. We also have an ongoing follow-up process where we work with you and the candidate to ensure that the on boarding process goes without a hindrance. In the vibrant market today, it is hard to find steadfast talent that meets your distinctive needs. Progressive Staffing solves your staffing problem by sourcing and recruiting the best candidates who have the potential to become permanent assets for your organisation.